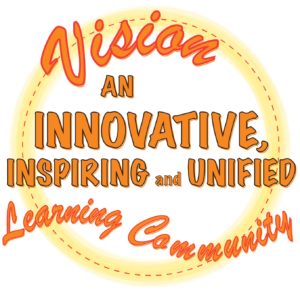 The Vision is a long-term roadmap that sets the direction for what the District will become. The Vision will prepare all learners for the new educational realities and the rapidly changing world. Going forward, the Vision will strengthen and unify the District and create a compass for future decision-making.
In serving first our students and each other in the partnership of students, teachers, support staff, administrators, trustees, and parents, we are committed to these principles:
Relevant, meaningful choices for students that ignite a lifelong passion for learning
Awakened sense of curiosity and wonder
Personalized, self-directed learning
Engaged learners
Learners are knowledgeable, skilled and innovative
Student success and confidence
Empowered to create
Learning takes place through flexible and connected environments
Anywhere, anytime
Connected to local and global community
Networked and collaborative learning
Our schools foster an inclusive and nurturing culture
Every child belongs
Respect for learning differences
Socially responsible contributing citizens
SD 35 Mission: To inspire all learners to reach their full potential and create a positive legacy for the future.  
Located approximately 45 kilometres southeast of Vancouver, BC, Langley School District provides services to the Matsqui, Kwantlen, and Katzie First Nations, the City of Langley and the Township of Langley. The District is honoured to operate on the unceded traditional territories of the Matsqui, Kwantlen, Katzie, and Semiahmoo First Nations. The District extends from the US border, north to the Fraser River and is neighbour to the communities of Surrey to the west and Abbotsford to the east. Total area of the District is 313 square kilometres. The District serves approximately 24,600 students; employs more than 3,800 staff; and has an annual budget of $331 million. The District has 45 schools providing International Baccalaureate, French Immersion, Fundamental, and Alternative programs.
An Enhancement Agreement (EA) is a working agreement between a school district, all local Aboriginal communities, and the Ministry of Education designed to enhance the educational achievement of Aboriginal students.
The EA establishes a collaborative partnership and shared responsibility between Aboriginal communities and school districts that involves shared decision-making and specific goal setting to meet the educational needs of Aboriginal students.